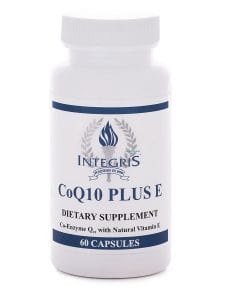 An essential component of cell function, CoQ10 is a natural antioxidant essential for cellular energy.
CoQ10 PLUS E is an essential component of mitochondria function. It allows mitochondria to work efficiently throughout the entire body, including the most densely populated area, the heart. Vitamin E is added to enhance the absorption and bioavailability of CoQ10.*
SUPPLEMENT FACTS:
Vitamin E, CoEnzyme Q10, Bioperine , rice flour, fumed silica, glycerol monostearate, vegetable magnesium stearate, gelatin. Contains soy.
Your Price $37.95