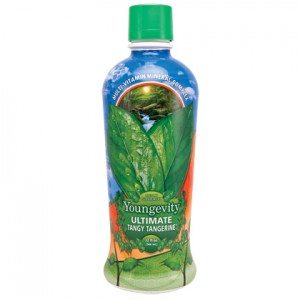 With today's hectic lifestyles, most people are too busy to make sure they're getting all the nutrients they need to keep their bodies running in peak condition. Great-tasting Ultimate Tangy Tangerine® contains a wide spectrum of vitamins, minerals, amino acids and other important nutrients to help busy people maintain good health.
Clinical studies were performed to identify the potential benefits of Youngevity's signature core products, Beyond Tangy Tangerine® and Ultimate Classic®. Youngevity's mission was to truly understand and clinically substantiate the health promoting benefits of these two products. Individually, each product targets specific areas, needs, and nutritional deficiencies of the body. Read it here.
SUGGESTED USE: Adults: mix one fluid ounce per 100 pounds of body weight, 1 to 2 times daily. Children: One teaspoon daily per 20 pounds of body weight. Not to exceed one fluid ounce.
WARNING: If you are pregnant, nursing or taking medications, consult your healthcare professional before taking this product. KEEP OUT OF THE REACH OF CHILDREN.
Your Price $48.95