BTT 2.0 – Gusset Bag
BTT 2.0 is the most advanc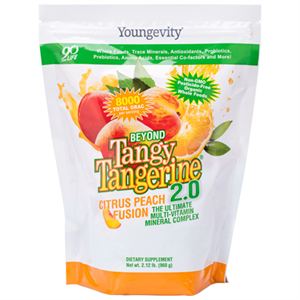 ed multi-vitamin mineral complex to date that provides you the highest quality essential nutrients that your body needs for optimal health in a larger 960 gram bag (60 servings)!
This gusset bag will ensure you have ample supply of BTT 2.0 Citrus Peach Fusion. With over 8,000 ORAC certified organic ingredients and synergizing co-factors to maximize vitamin & mineral uptake, the most advanced multi-vitamin mineral complex on the market. Beyond Tangy Tangerine 2.0 provides: energy boosting nutrients, PuriGenic™ antioxidant support, PrePro™ prebiotic and probiotic blend, over 500mg of natural amino acids and increased potencies of most vitamins & minerals for optimal wellness.
Ingredients: Vitamin A, Vitamin C, Vitamin D-3, Vitamin E, Vitamin K, Thiamin, Riboflavin, Niacin, Vitamin B-6 , Folate, Vitamin B-12, Biotin, Pantothenic Acid, Calcium, Iron, Magnesium, Zinc, Selenium , Copper, Chromium, Potassium, Organic Trace Minerals , Glucosamine, MSM, Chondroitin Sulfate, Organic Amino Acid Complex, Inositol, PuriGenic™ Multifaceted Free Radical Defense System (Proprietary Blend: Organic Amla bioflavonoids, selenium (as selenomethionine), grape seed extract), Beet Root Extract, PrePro™ Prebiotic and Probiotic, Co-enzyme Q10, Boron, RejuvaSweet™ Naturally Sweet Branched and Linear Chained Cellular Energy Concentrates, natural flavor and color, organic stevia, Acacia Gum.
 Supplement Facts
Your Price: $105.00