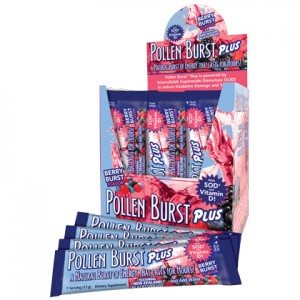 Featuring New Zealand Blackcurrant and the powerful antioxidant SOD, this great-tasting natural berry-flavored drink helps the body fight damage by free radicals, toxins, and other environmental stresses.
DIRECTIONS: Adults, pour contents of one stick pack into 12 fluid ounces of cold water, stir well and serve. Two stick packs a day is maximum suggested use.
Your price $71.95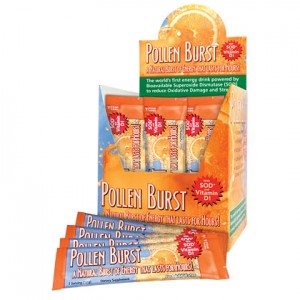 Pollen Burst™ is the world's first energy drink powered by flower pollen. Featuring vitamin D and the powerful antioxidant superoxide dismutase (SOD), this great-tasting natural orange-flavored drink helps fight cellular damage from free radicals, toxins, and other environmental stresses.
SUGGESTED USE: Adults, pour contents of one packet into 8 fluid ounces of water, stir well, and serve. Maximum suggested use is 2 packets per day.
Your Price $59.95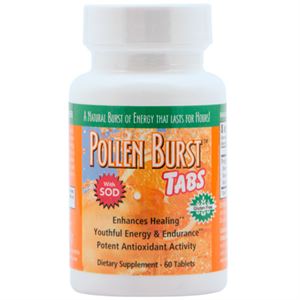 Pollen Burst Tabs (formerly ProJoba Polbax) contains natural organic hypoallergenic nutrient extracts from pure flower pollen. Pollen Burst Tabs promote natural energy (SOD) and endurance without caffeine. Recognized as a potent antioxidant Pollen Burst Tabs promote greater health enhance athletic performance and provide nutritional support required by the body to help deal with stress.
SUGAR-FREE. GLUTEN-FREE. CAFFEINE-FREE!
SUGGESTED USE: Take one tablet twice daily. CAUTION: For adults only. If you are pregnant nursing or taking any medications consult your healthcare professional before using this product. Store at room temperature and avoid excess heat above 104F(40C).
Ingredients: Proprietary Blend: [Flower Pollen Extracts, Botanical, Superoxide Dismutase (SOD)], Amount by Input: Pollen Extract, Std. 68 mg, Cellulose, Dicalcium Phosphate (Anhydrous), Stearic Acid, Magnesium Stearate, Silicon Dioxide and Croscermellose Sodium.
Your Price $29.95
Looks like you have entered a product ID (159) that doesn't exist in the product database. Please check your product ID value again!