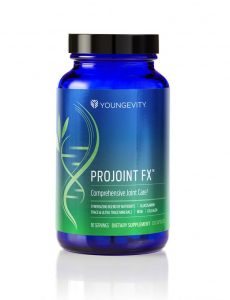 ProJoint FX™ is a nutritionally advanced formula that supports the health of the entire joint structure. Through a three step process, the nutrients in the ProJoint FX™ formula may help improve overall joint care.
ProJoint FX delivers synergizing nutrients that work together to support the entire joint structure. It delivers the antioxidant support needed for a healthy inflammatory response while providing the nutrients that help support strong, healthy joints and prevent future joint damage. Through a three step process, ProJoint FX may help improve overall joint health.
• Supports healthy ligaments, tendons and cartilage
• Promotes flexibility, mobility, and movement
• Supports a joint comfort
• Supports a healthy immune response
• Promotes the development of healthy tissue
• Supports the entire joint structure for healthier, stronger joints
Your Price $59.95
ProJoint FX Targeted Nutritional Support Includes:
Glucosamine HCI – a highly researched amino acid and the building block of all joint tissue. Glucosamine is used to create the soft tissue that surrounds the joints.
MSM (Methylsulfonylmethane) – an organic sulfur compound found to support many aspects of bone & joint health including flexibility, stiffness and muscle recovery.
Chicken Collagen Type II – has been used for many years to treat joint concerns. It also contains glucosamine and chondroitin that are known for joint support.
Turmacin® – a clinically researched supplement shown to help reduce knee and joint pain due to overuse and aging.
Olive Leaf Extract – the most effective delivery of olive oil. This botanical is known for the support it provides for joint pain and also to help reduce swelling.
Boswellia (Boswellia serrata) – a tree botanical traditionally used to treat chronic inflammatory diseases in eastern medicines.
Youngevity Trace & Ultra Trace Minerals – a blend of highly absorbable essential minerals needed for optimal health.