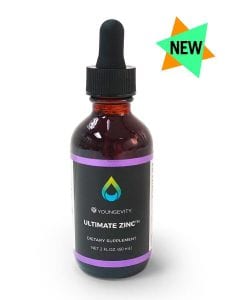 Ultimate Zinc™ combines zinc with a proprietary blend of antioxidant-rich herbs and essential oils that provide immune-supporting benefits. This liquid based zinc supplement is easy-to-digest and more easily absorbed by the body.
Zinc (from zinc sulfate):  An essential micronutrient that is involved in regulating immune responses.
Thyme leaf extract: Contains phenolic compounds that are considered good antioxidants.
Licorice root extract:  Know to display potent antioxidant activity.
Peppermint leaf: A potent source of antioxidants, especially when compared to other herbs and spices.
Eucalyptus Leaf: A great source of antioxidants, particularly flavonoids, which protect your body from oxidative stress.
Your Cost $26.95