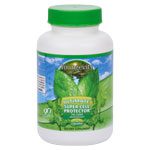 Each capsule of Super Cell Protector™ contains 12 patented minerals and the super antioxidant OPC (Oligomeric Procyanthocyanidins) extracted from grape seed.* Antioxidants may help prevent cell damage caused by free radicals (highly reactive molecules that can damage cell function).
DIRECTIONS: Take three capsules daily or as directed by your healthcare professional.
WARNING: Accidental overdose of iron-containing products is a leading cause of fatal poisoning in children under six. In case of accidental overdose call a doctor or poison control center immediately. If you are pregnant nursing or taking any medications consult your healthcare provider before using this product. KEEP OUT OF REACH OF CHILDREN.
Your Price $25.00