XeraFem™ Hormonal Support for Women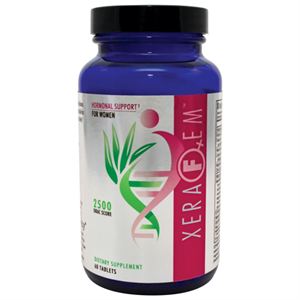 XeraFem tablets supply high-quality, all-natural vitamin, mineral and botanicals that provide hormonal support for women.
XeraFem tablets supply all-natural, high-quality vitamins, minerals and botanicals that help promote better health and hormone production for women. This natural approach to hormonal balance helps to nutritionally restore estrogen and hormonal balance while also supporting powerful defenses against oxidative stresses of aging. XeraFem does not contain hormones.
Ingredients:
Vitamin A, Vitamin C, Vitamin E, Niacin, Calcium, Magnesium, Zinc, Maca, Full Spectrum Whole Food Blend from Grape Seed Extract, Wild Blueberry, Quercetin, Resveratrol, Wild Bilberry, Cranberry, Tart Cherry, Prune Raspberry Seed, Strawberry E Botanical Blend, Alangium salviifolium Fruit Extract, Ziziphus mauritiana Fruit Extract, Citrus bioflavonoids, Natural Vitality Factors, Proprietary botanical blend of Ginger Dong Quai Damiana (Turnera diffusa var. aphrodisiaca whole herb); L-Arginine, L-Histidine, Certified Organic Whole Foods, Açai, Acerola, Algas calcareas, Amla, Annatto, Beet, Bilberry, Blueberry, Broccoli, Carrot, Cauliflower, Chlorella, Cordyceps, Grape, Guava, Holy Basil, Kale, Lemon, Maitake, Moringa, Mustard, Parsley, Shiitake, Spinach, Spirulina, Tomato Organic, Flax, Microcrystalline cellulose, calcium carbonate, magnesium oxide, stearic acid, vegetable cellulose, magnesium stearate, hydroxypropyl methylcellulose and pharmaceutical glaze.
 

Your Price $39.95
Women's Hormonal Balancer™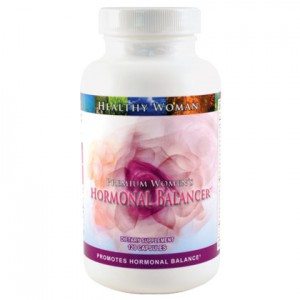 Formulated with vitamins, minerals and phytonutrients to specifically promote a healthy, balanced female hormonal system. Its youth-enhancing nutrients provide balance during hormonal swings associated with pre-menstruation and peri-menopause.
BENEFITS:
Supports healthy testosterone levels
Promotes one's sense of well-being
Supports libido
Helps to minimize discomforts associated with PMS.
 Your Price $29.95